free DocAve SQL Restore Controller
An item level restore solution is available at AvePoint. The DocAve SQL Restore Controller care restore items, sites and site collections from a SQL or DPM database, or a backup.
If you click on the download link, you have to provide an email address. A download link will be sent to you.
The files you have to download are 414 MB (Manager) and 40 MB for the Agent. But the download server is fast 🙂
After the installation you can login to the website as admin/admin. Sometimes reading the documentation tells you important things! You have to configure various properties and data stores to be able to search for and select items.
In my case I searched for part of the item title, which was "delete".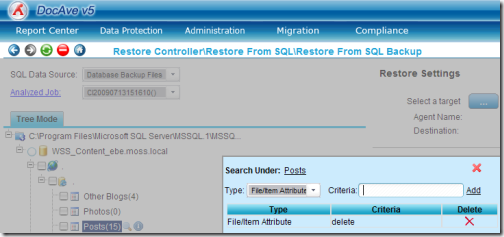 The Restore Controller found an item with the ID 4.

Conclusion:
The restore of the item worked as it is should. The product is great to restore items, if you have a backup.